IZLAZNO POJAČALO S IC LM3886
(16 January 2006)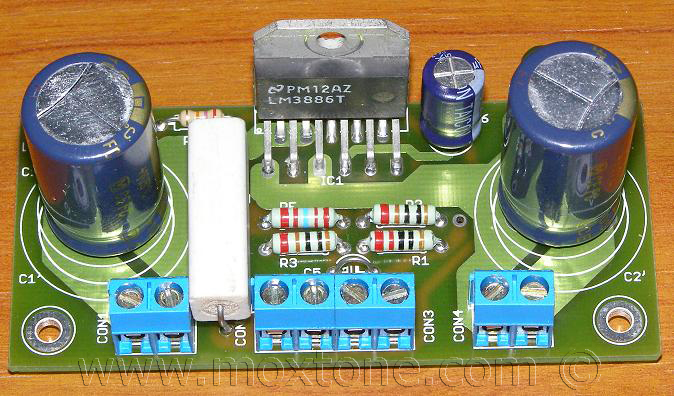 Ovaj IC je po svojim karakteristikama približno jednak IC-u LM3875. Razlika se sastoji u vanjskoj kontroli "mute" funkcije i nešto većoj struji koju LM3886 može dati. Zbog te veće izlazne struje, ovaj je IC prikladniji za projektiranje izlaznih pojačala za pogon subniskotonskog zvučnika ili, općenito, zvučnika niske impedancije. Shema pojačala prikazana je na slici 1.
Slika 1
Popis dijelova:
| | |
| --- | --- |
| R1 | 10 kohm |
| R2 | 1 kohm |
| R3 | 1 kohm |
| R4 | 0.1 ohm/3-5W |
| R5 | 22 kohm |
| Rf | 22 kohm |
| C1, C2 | 1000uF/50V |
| C3, C4 | 220nF/50V |
| C5 | 47 uF/50V |
| C6 | 100 uF/50V |
| IC | LM3886 |
Sve primjedbe vezane uz izbor elemenata te moguće spojeve koje su izrečene u opisu pojačala s IC LM3875 vrijede i ovdje. Za napajanje se također može koristiti shema ispravljača dana uz IC LM3875. Karakteristike transformatora za napajanje mono izvedbe ovakvog pojačala obično su P=100VA, U pr=230V, Usec=2x24V. Za stereo izvedbu, snaga transformatora treba biti dvostruko veća.
Ovi IC-i se u praksi često koriste u paralelnom ili mosnom spoju. U paralelnom spoju dva IC-a, povećava se maksimalna izlazna struja pojačala pa se može dobiti veća snaga (preko 100W) pri maksimalnom naponu napajanja na 4-omskom teretu. U mosnom se spoju povećava upotrebljiv izlazni napon iz pojačala pa se ovakav spoj koristi kada je impedancija zvučnika visoka (8 i više oma). Konačno, moguće je i kombinirati spoj dvaju paralelnih pojačala koja su spojena u most s još dva paralelno spojena pojačala. Snaga ovakvog pojačala sastavljenog od 4 IC-a LM3886 može biti veća od 200W, ovisno o naponu napajanja i hlađenju pojačala.
Hlađenje je ovdje iznimno važno. Iskoristivost pojačala nešto je veća od 50%, što znači da je snaga koja se pretvara u toplinu približno jednaka izlaznoj snazi te za 50-vatno pojačalo, primjerice, iznosi oko 50W. Upotrijebljeni hladnjaci trebaju biti velikih dimenzija (oko 0,5oC po W) i slobodni u prostoru kako bi zrak mogao nesmetano strujati. IC treba biti električki izolirano montiran na hladila.
Kondenzatori C1 i C2 ovdje imaju minimalnu vrijednost potrebnu za dobar rad pojačala. Međutim, koristi li se pojačalo za pogon zahtjevnijih zvučnika, ili subniskotonskih zvučnika, uputno je povećati vrijednost kondenzatora na 4700uF ili više, uz isti radni napon.  Detaljnije karakteristike pojačala s IC LM3886 mogu se pronaći na internetskoj stranici Texas Instruments (dopuna: 2011. godine TI je kupio National Semiconductor). Mjerni rezultati izrađenih primjeraka u potpunosti su bili sukladni objavljenim rezultatima proizvođača. Pločica na koju su smješteni elementi pojačala prikazana je na slici 2.
Slika 2


COPYRIGHT NOTICE
This material is not public domain. It is provided for your personal use only and may not be reproduced, re-distributed, re-transmitted, copied or otherwise used in any form without the express written permission of the author. You may not upload this material to any public server, on-line service, network or bulletin board without the prior written permission of the author. The use or copying of the contents of this page, in whole or in part, for any commercial purpose is expressly prohibited.