AUTOTRANSFORMATORSKI ATENUATOR
(1 January 2006)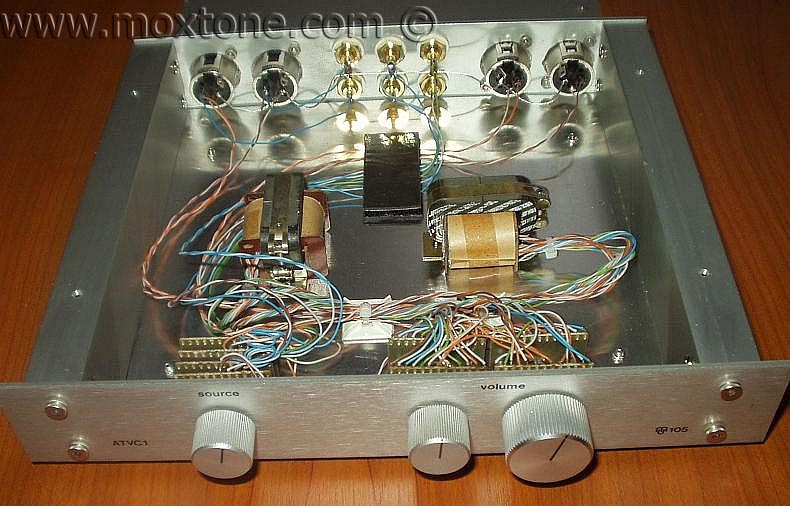 Autotransformatorski pasivni atenuator služi za regulaciju glasnoće audio sustava, čiji se rad temelji na principu transformacije izmjeničnog napona pomoću transformatora ili auto transformatora. Shema atenuatora prikazana je na slici 1.
Slika 1: shema pasivnog atenuatora
Atenuator ima tri ulaza, od kojih je prvi balansiran, dok su druga dva nebalansirana. Na taj način atenuator može poslužiti i za atenuaciju balansiranih signala bez nepotrebnih i nepoželjnih pretvorbi u nebalansirani signal. Željeni ulaz odabire se četverostrukim tropoložajnim selektorom S1 te odvodi na transformatore 1 i 2. Autotransformatori su ručne izrade, s koracima atenuacije projektiranima posebno za ovu svrhu.
Svaki transformator ima 21 izvod te područje regulacije od 0 dB do -56dB. Izvodi transformatora vode se na preklopnike S2 i S3, kojima se izabire željena glasnoća. Ovdje se koriste dva dvostruka preklopnika s po 12 položaja jer je to jeftinije rješenje. No, mogu se koristiti i preklopnici s 24 položaja.
Princip rada s dva preklopnika jednostavan je: preklopnikom S2 pokriva se u praksi najčešće korišteno područje atenuacije od 0 do -22dB, a preklopnikom S3 područje od -24 do -56dB, odnosno do položaja "isključeno". Preklopnik S3 aktivan je samo kada je preklopnik S2 u najnižem položaju (položaj 12). Izlaz iz preklopnika vodi se na izlazne konektore, balansirane i nebalansirane.
Osnovne karakteristike atenuatora su:
frekvencijski opseg - 10Hz do 125kHz (za izlazni impedanciju izvora veću od 1kohm)
induktivitet autotransformatora - L=31H - harmoničko izobličenje
THD=manje od 0,1% za cijeli frekvencijski opseg.
Za rad atenuatora nije potrebno nikakvo napajanje.
COPYRIGHT NOTICE
This material is not public domain. It is provided for your personal use only and may not be reproduced, re-distributed, re-transmitted, copied or otherwise used in any form without the express written permission of the author. You may not upload this material to any public server, on-line service, network or bulletin board without the prior written permission of the author. The use or copying of the contents of this page, in whole or in part, for any commercial purpose is expressly prohibited.