SERIJSKI MREŽNI FILTAR MOX_MFS2
(19 June 2006)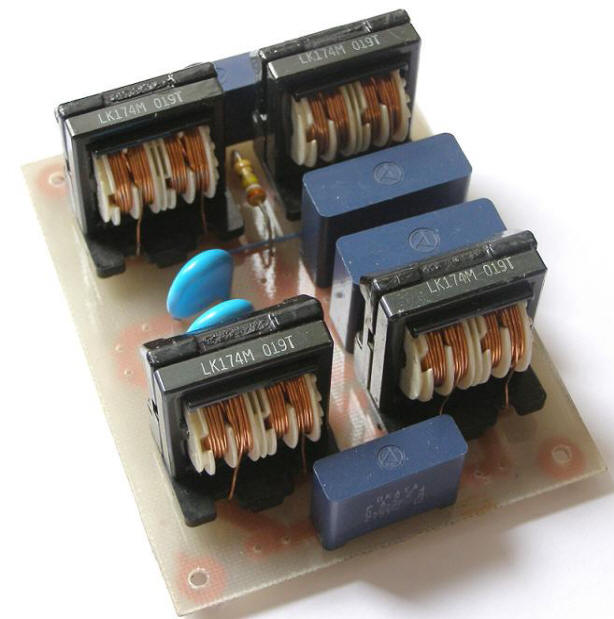 U projektu MOX_MFS1 prikazana je izrada serijskog filtra s dijelovima iz starih, računalnih monitora ili napajanja. Maksimalno opterećenje tog filtra iznosi 3A, što nije dostatno želimo li na njega priključiti snažnije pojačalo. U tom slučaju možemo napraviti serijski filtar čija je shema prikazana na slici 1. Sav materijal potreban za njegovu izradu prikazan je na slici 2.
Slika 1


Slika 2
Koristeći dvije paralelno spojene zavojnice i dvije zavojnice s paralelno spojenim namotajima, dobivamo dvostruko veću struju (6A) kojom se filtar može opteretiti. Nedostatak ovakvoga spoja je što dvije jednake zavojnice u paralelnom spoju daju ujedno i dvostruko manji induktivitet. Međutim, budući da su dizajnerski zahtjevi pri napajanju pojačala ponešto drugačiji nego kod drugih uređaja, to smanjenje induktiviteta neće bitno utjecati na rad i kvalitetu filtra. Stoga su i zavojnice L2 i L4 spojene svaka u svoju granu, čime se povećava potiskivanje simetričnih smetnji. Potiskivanje asimetričnih smetnji je manje nego kod filtra MFS1, ali to je kod napajanja pojačala od sekundarnog značaja jer niti pojačalo može generirati značajnije asimetrične smetnje niti je na njih previše osjetljivo. Ostali su elementi više manje standardni. Ako želite, možete se poigrati s vrijednostima CX kondenzatora, no pritom svakako uvijek trebate paziti da su CX kondenzatori X2 klase, a CY kondenzatori Y klase. Filtar je realiziran na pločici 8x10cm, a raspored elemenata prikazan je na slici 3. 
Slika 3
Na slici 4 prikazana je strana vodova na tiskanoj pločici, na kojoj su dodatno zalemljene posrebrene pune žice da bi se što više smanjio prijelazni/prolazni otpor filtra.
Slika 4
Kao i prethodni filtar, i ovaj će filtar biti ugrađen u jedan kompleksan uređaj za filtraciju mrežnog napajanja, kada će ujedno biti objavljeni i mjerni rezultati (potiskivanje smetnji ovisno o frekvenciji).
COPYRIGHT NOTICE
This material is not public domain. It is provided for your personal use only and may not be reproduced, re-distributed, re-transmitted, copied or otherwise used in any form without the express written permission of the author. You may not upload this material to any public server, on-line service, network or bulletin board without the prior written permission of the author. The use or copying of the contents of this page, in whole or in part, for any commercial purpose is expressly prohibited.